The day was winding down. I had borrowed a lesson plan from Mr. Worksheetgive who had borrowed a lesson from Mrs. Makelitboring and it was not going well. Casualties were mounting: 16 students had suffered concussions after their elbow, which was holding up their head, slipped in the drool that had accumulated on their desk, causing their head to slam against the desk; 11 had to be rushed to the school nurse when they nodded off with a pencil in their hand, leading to a punctured eye ball; 7 had intentionally punctured their eyeball to get out of class; and five had died from boredom.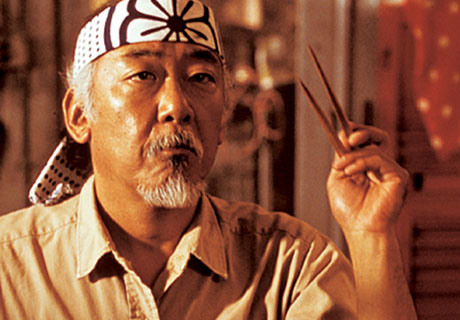 I must have fallen asleep because when I woke up the room was empty, except for a talking statue of Mr. Miyagi from Karate Kid, who while capturing a fly with chopsticks, handed me a small group lesson plan involving literature discussion questions and ela common core standards.
Since I was fired for boring five students to death, I gave Miyagi's lesson plan to my replacement who told me it went well.
I now share it with you.
Speaking of boring, let's get the common core objectives out of the way.
RL.9-10.1 – Cite strong and thorough textual evidence to support analysis of what the text says explicitly as well as inferences drawn from the text.
SL.9-10.1 – Initiate and participate effectively in a range of collaborative discussions (one-on-one, in groups, and teacher-led) with diverse partners on grades 9-10 topics, texts, and issues, building on others' ideas and expressing their own clearly and persuasively.
Share This: